Business
Bloom Investing for Teens: A Review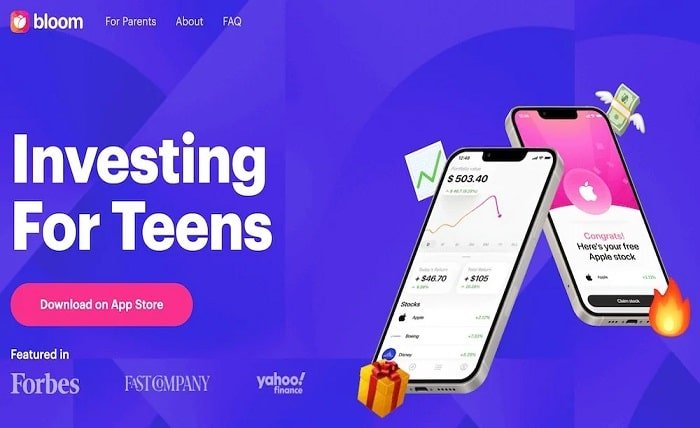 Bloom is a mobile app that aims to teach teens how to invest in the stock market. It offers a zero-commission brokerage account, financial education modules, parental controls, and stock rewards. But is it worth it? Here are some pros and cons of using Bloom to start your investing journey.
Pros of Bloom
Easy to start. You can open a real investing account in just a few minutes with Bloom. You only need a minimum of $10 to start investing in over 5,000 stocks and ETFs. You can also buy fractional shares, which means you can own a piece of any company you want, no matter how expensive the stock price is.
No fees. Bloom does not charge any commissions or fees when you trade stocks and ETFs on the app. You only pay a flat monthly subscription of $15, which includes your investing account, financial education, and stock rewards.
Educational. Bloom provides interactive lessons and quizzes to help you learn the basics of investing, such as risk, diversification, compound interest, and more. You can also access news and analysis on the app to stay updated on the market trends.
Parental controls. If you are between 13 and 17 years old, you can use Bloom with parental approval through a custodial account. This means your parents can monitor your activity, set limits on your trades, and approve or reject your transactions.
Stock rewards. Bloom rewards you with free stocks when you complete certain tasks on the app, such as finishing a lesson, making a deposit, or inviting a friend. You can also earn cash back when you shop at partner brands like Nike, Starbucks, and Netflix.
Cons of Bloom
Limited investment options. Bloom only allows you to invest in U.S.-based stocks and ETFs. You cannot invest in other assets like bonds, mutual funds, options, or cryptocurrencies. You also cannot trade on foreign exchanges or access international markets.
Subscription cost. Bloom charges $15 per month for its service, which may seem expensive for some teens who are just starting out. You may also have to pay taxes on your capital gains and dividends, which can reduce your returns.
No robo-advisor. Bloom does not offer any automated investment advice or portfolio management. You have to make your own decisions on what to buy and sell, and how to allocate your funds. You also have to do your own research and analysis on the stocks and ETFs you are interested in.
Conclusion
Bloom is a great app for teens who want to learn how to invest in the stock market. It offers a simple and convenient way to start investing with no fees, educational resources, parental controls, and stock rewards. However, it also has some limitations, such as limited investment options, subscription cost, and no robo-advisor. Therefore, you should weigh the pros and cons of using Bloom before signing up for it.